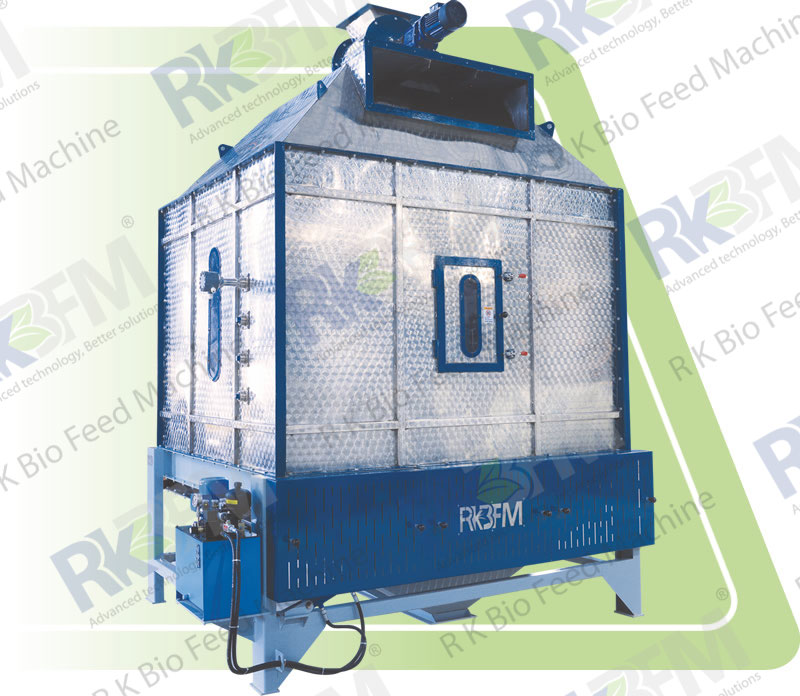 Air versus pellets counter flow effect enables the pellet to be cooled gradually thus minimizing the risk of "cooling shock".
Rotary vane feeder for uniform feeding /distribution of pellets into the cooler chamber.
Complete construction in stainless steel grade 304.
Sturdy grid discharge system - Eccentric sliding type for smaller models and Hydraulic swiveling flap type for bigger models.
Automatic discharge gate closure in the event of power failure to avoid spillage of pellets.
Adjustable level sensor for optimum cooling of the pellets in all weather conditions.
Easy access doors for maintenance and cleaning of cooling chamber.
| | | | |
| --- | --- | --- | --- |
| Model No. RK-CFC | Capacity (TPH) | Power (hp) | Volume (m3) |
| 150 x 150 x 150 | 5 - 7 | 1 + 1 | 3.30 |
| 180 x 200 x 150 | 10 - 12 | 1 +1 | 5.40 |
| 200 x 220 x 150 | 12 - 15 | 1 + 1 | 6.60 |
| 220 x 250 x 150S | 15 - 18 | 3 + 2 | 8.70 |
| 250 x 250 x 175S | 20 - 24 | 5 + 2 | 10.90 |
| 280 x 280 x 175S | 25 - 30 | 5 + 2 | 13.70 |